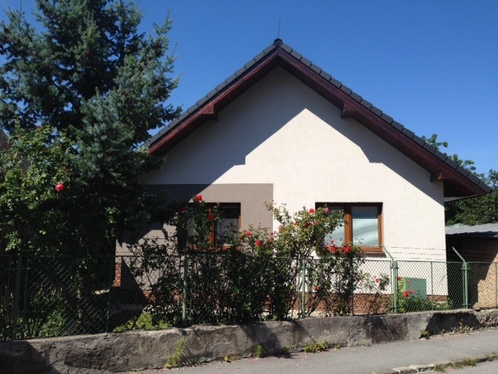 Dear brothers and sisters,

Windshield wipers are keeping tempo for my pecking out of this newsletter on my cellphone in the passenger seat of the van we hired to move us five hours east from Bratislava to our new home, Košice. We got the thing all packed just as the sprinkling started, thank God, and were off just in time for the deluge. Our house is on a street called Orechová, which refers to nuts (walnuts, cashews, chestnuts, etc.). Naturally, we have affectionately dubbed our new home as the "Nut House."

As of last week we have, through your intercession and support, lived in Slovakia for one year as missionaries. Thank you for your partnership in God's mission for the sake of the gospel. As far as tangible progress we've seen in the country over the past year: three baptisms, three restorations, the demonstrable maturation of leaders; we have found such fraternity and friendship here it is impossible to say, and we've become semi-fluent in Slovak speakers. We are sad to have to say goodbye to our precious friends in Bratislava. Just this last Saturday we had a sending-off lunch with our Slovak teacher (and disciple of Christ), who gave us her blessing plus a certificate stating we'd been in our private Slovak classes 360 hours--not to mention the hundreds of hours we've spent with flash cards and, as Natalie says, "inflicting our Slovak" on unsuspecting shop clerks and little old ladies on the trains and trolley cars who get stuck next to us on the inside seat.

We're eager to get to work in Košice and have every reason to believe we'll hit the ground gospelling! And, God willing, we will still get to travel monthly, as we've done the past half-year on invitation, teaching and preaching in other assemblies throughout the country. We're also looking forward to organizing short-term campaigns with you and folks from your congregations with us in Košice, hopefully involving as many of you as possible. Be praying about this possibility, as we discern it's a door the Lord is opening up for us all. And make sure to have your passport ready when God lays it on your hearts.

Unfortunately, with moving and future plans come extra expenses. The public transportation system in Košice, unlike Bratislava, is not entirely dependable. We are hoping to purchase a car in the near future. We humbly ask for any support you would like to share with us to help offset the costs, in whatever way God places it on your hearts.