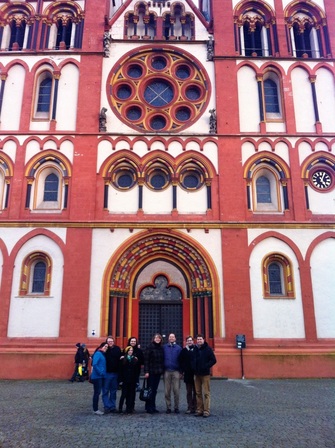 Dear all,
It's been an exciting and blessed beginning of 2015 for the Arnolds in Slovakia. As always, we thank all of you for your ongoing championing of us before the Father in prayer, along with your material generosity. You are
awesome
--and we don't lightly use the word!
Due to—and I must speak abstractly here on account of the personalities involved—a surprising prospect facing the church from within the brotherhood but without the local congregation last month, the assembly in Bratislava had an opportunity to grow in the knowledge of grace and clarify its own vision of "that which is of first importance." I'm so proud to say as one of her members and servants, in praise of God, that this body has chosen to square its identity solidly in the gospel of Christ.
Our Slovak language classes continue. I reckon next year by this time we'll be fluent. In addition to our language learning, Natalie and I have both worked out an arrangement with the school we attend to teach advanced and technical English in exchange for reduced tuition (We're unable with visa restrictions to work for gain in the country). This opportunity is putting us in with new evangelistic contacts. May God help us bear fruit in all our deeds, yes.
Last week we travelled with Roman to an international retreat in Gemunden, Germany. What an encouraging road trip that was! We met coworkers (and made new friends!) in the kingdom, both compatriots and nationals, from all over Europe and the U.K. The theme of the retreat was "Hospitality," or "God in the Stranger," exploring Matthew 25:31-46. In between fellowship, we were able to go sightseeing in nearby towns Braunfels (predecessor of New Braunfels, TX) and Limburg an der Lahn. The retreat was a lovely glimpse of what Heaven must be like.
Next month is the Slovak and Czech Easter retreat in central Slovakia. We're expecting in the range of 50-70 to attend. Our leader is to be an Irish brother from Dublin, Tony Coffey. He keeps up a splendid website I'd recommend to you:
www.bibleanswers.ie
.
We thank you, love you and couldn't be more blessed to know brothers and sisters as yourselves.