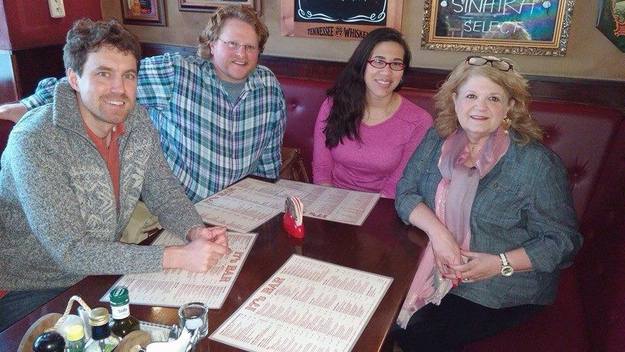 Dear all,
I'm writing this month's newsletter from the patio of our balcony overhearing passersby below chatting. Now, thanks to five months of daily intense language study, I'm finally understanding what I'm eavesdropping. Five months of language classes, years of your prayers and seven months of your support, and we feel pretty good about our progress. We're busy making friends and influencing people.
Earlier this month, we celebrated the baptism of Beata. For years now she's been a friend and God-fearer, an admirer of Christ and worshiper but skeptic nevertheless. I know not how the Spirit moves ... but I know He blows where He wills. And when. And just before Beata was raised to walk in newness of life out of a sixth-floor bathtub turned baptistry, her dying words were fitting, "Lord, I believe; help my unbelief." After her immersion this brave disciple took to Facebook, announcing to her family and friends, to the world, "My soul rejoices in the PRIVILEGE I accepted tonight." Amen.
Also this month, we received some encouraging visits by several Americans. Professor Hicks of Lipscomb University has been on a teaching assignment this semester in Vienna, and Roman arranged for our scholarly brother to lecture here in Bratislava at Commenius University's Lutheran Seminary. That's scheduled for next month.
Not just Tennesseans are visiting us. Texans Mark and Sheri Lee Woodward, missionaries and founders of the
Let's Start Talking
world evangelization program, also visited us a couple of weeks back. We spoke about the possibility of them sending teams here to Bratislava in the future, whether it might be incorporated into our long-term strategy. We encourage you to check out their wonderful program.
Also, we've been getting geared up for the Easter Family Retreat at a lodge in the Tatra Mountains along the Polish border. We'll be joined by Christians from all over Slovakia, the Czech Republic and maybe some from Austria. As I mentioned in last month's newsletter, leading us will be preacher and author
Tony Coffey
of Dublin, Ireland. Tony's bringing his wife, Leslie, and they plan to stay with us in Bratislava after camp to do some sightseeing on the Danube.
Be sure to drop us a line now and again. Come and visit. We'd be delighted to have you. We are blessed to be your partners.