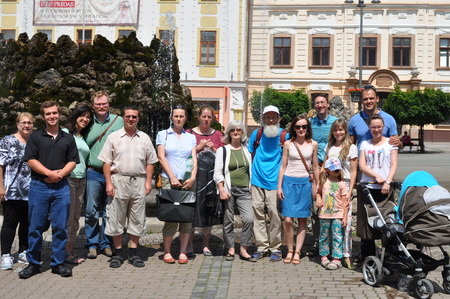 Greetings everyone,

It's finally begun feeling like summertime. All of the kids are out of school, everyone is traveling for holiday and the public transportation lines are all packed to the gills. We had visitors this month. Dear friends from Robert Lee, Texas flew in via Istanbul to visit us and the area. It was strange but wonderful to visit with, in a sense, the old life we left in Robert Lee.

Over the past month we've taken a break from full-time language study in order to prepare for our move in August. This break has also given us the opportunity to travel around the country to visit and encourage congregations in the cities of Banska Bystrica, Martin and Košice.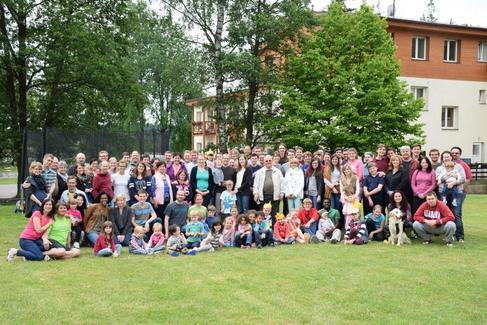 Last week we were in Moravia (Czech Republic) and had the privilege to attend the Central European Family Retreat, where the passionate
Dino Roussos
, a preacher and speaker based in Athens, taught us how to speak and sing (and even dance!) in Greek. There were 101 of us in total, from at least a dozen different nationalities. One evening we were up until midnight singing in tongues: English, Czech, Slovak, Hungarian, Dutch, Polish, Greek, German, Croatian and Romanian. We were blessed to have another glimpse of what heaven must be like.
We were also blessed to meet another couple,
Paul and Katie Crook
, who are based in Romania and working for the Lord amongst the Roma (gypsy) population.
We're all set to move to Košice next month. A moving truck comes for us August 14th. God enabling, were looking forward to buying an automobile when we arrive. We will be taking driving school lessons from a brother who owns a driving school in Košice. It's been a year since either of us has driven, a lot of years since either of us drove a stick shift or had to do any European-style parallel parking. Several of you have asked us about how the move will affect our financial situation. It shouldn't, really, not beyond the moving cost (est. $3,500 - any contribution will be gratefully received). We will have auto expenses we didn't have in Bratislava, but the somewhat lower cost of living in Košice should offset the difference. Also, we'll be renting a house with a yard and garden, near downtown, from a brother in the Košice church who was mentioned previously.
We ask you to pray for the church in Košice, that the upcoming transition would glorify God, help bring peace in relationships and many lost into the kingdom.
We ask you to pray for our good Slovak friend and brother who's facing genuine persecution for his new faith: his wife is using his ongoing conversion to Christianity as a pretext for divorcing him.
Please pray for Europe, that the widespread anxiety over the economic fallout over Greece and the war footing in Ukraine would somehow open the hearts of precious souls to the good news of King Jesus.
Thank you for reading this and for loving us.
love,
Jordan and Natalie