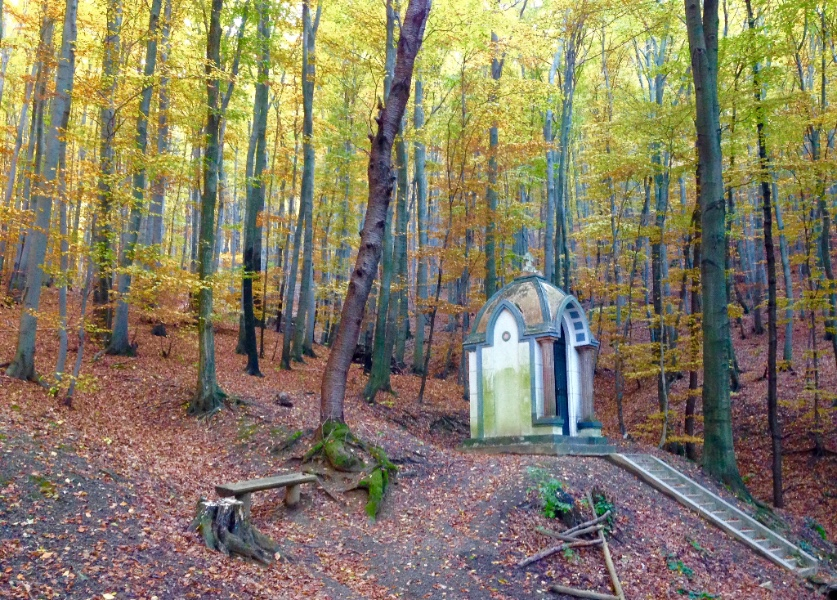 A tiny kaplnka (chapel) in the forest, Košice
Thanksgiving greetings from the Arnolds in Slovakia! This marks now the second Thanksgiving holiday we've been away from our family in the States. It's a bit emotionally tough. But, while it's no substitute for a hug, video chatting online with friends and family does make the distance a bit more bearable.

The days are getting colder and shorter, with sunrise at about six thirty and setting by four thirty. It gets dark even sooner because our city lies in a valley.

The forested hills were spectacularly aflame with autumn until just this last Tuesday when the first hard freeze and wind snuffed out the last of the leaves. At the height of fall Natalie and I went on a long, chilly bike ride with a couple from the church, Slavo and Kveta, the parents of Peter (the leader of the church here in Košice . The Červený Kláštor (Red Monastery) national park hosts a bike trail through a river gorge in the Tatras mountains on the Slovak/Polish border. It was Natalie's first 25+ mile bike ride.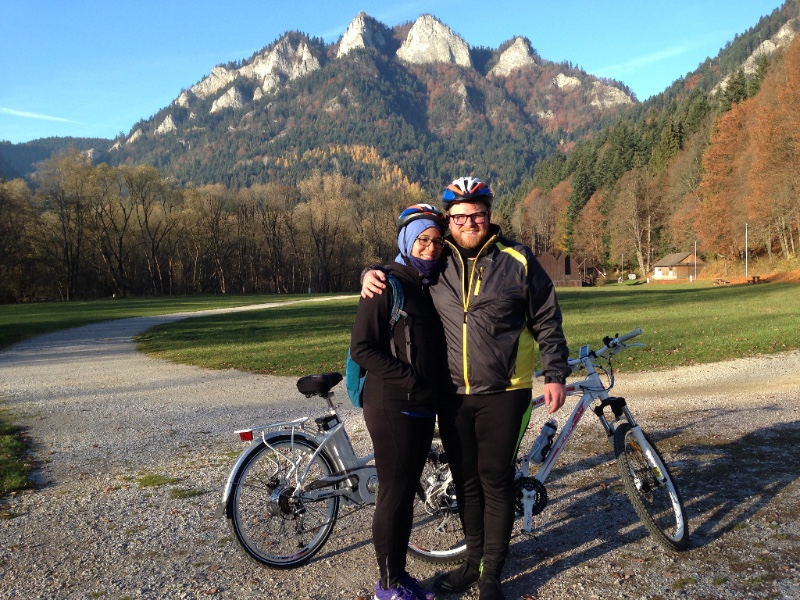 At Červený Kláštor national park, in front of the Three Crowns and Seven Monks

Regarding the immigration crisis in Europe and recent terror attacks in France, which several have asked about, there is a palpable sense of anxiety, familiar to those of us who remember the uncertainty of those weeks immediately post 9/11. The western part of Slovakia, where we formerly lived, is more directly impacted by the Continental politics than where we currently reside. And in the poorer East, where we live, there is frustration with the open door policies of wealthier central and northern Europe. Angela Merkel is the butt of most jokes these days in Slovakia. We must reapply for residency ourselves in August, but we're hopeful that the populist and anti-immigration tack of the Slovak government won't create too much trouble for us. Reportedly, there are some former Guantanamo detainees who the US Administration dumped off on Slovakia in a hush-hush deal living somewhere in the country. Still, Slovakia is not very likely on the radar of Islamic terrorists (There's not a single mosque in the country.). But we've changed some our plans to attend large public gatherings in Central Europe out of caution advised by the US State Department. For example, we'd been planning to attend an upcoming rock concert in Budapest, and last weekend Jordan and his good friend from the Bratislava church decided against going to the International Auto Show in Milan, Italy.

Regarding our work, we've seen both setbacks and successes over the past month; but all in all at least it's been busy. Last weekend we were forced to call off the regular Sunday assembly last minute, as apart from us sickness and travel had each one of our families out of pocket. The previous two Sundays we visited the churches in Bratislava and in Banska Bystrica. There were eight besides us present in Bratislava and twelve in Banska Bystrica.

Last Thursday, a sweet older couple, who are pensioners as well as students, mentioned in previous posts, invited us over to their place for lunch. Their flat is in a typical working class "sídlisko" of the city built during the Communist era. Everything is concrete and gray, hard and colorless. In front of the flat is a fountain basin along with a crumbled piece of public art, relic of the socialist paradise. The fountain is empty and overgrown with tussocks of weeds and clumps of moss growing from the silt.

"Škoda," he says, meaning "pity."

We climb up the several flights of stairs. She greets us at the door with a kiss and seated us at a table spread with white linen, their finest porcelain (handmade in Poland, and only used for special occasions), wine flutes, lit candles and the food, a four-course spread. "Bless us, O Lord, and these, Thy gifts, which we are about to receive from Thy bounty through Christ, our Lord." Apéritif and cheese, chicken and parsnip soup, cordon bleu, not one but two different types of risotto, steamed vegetables and garnish, smoked and sautéed tofu, and, the pièce de résistance: champagne apple sauce and chocolate parfait with lady fingers and whipped cream for good measure.

"I know you're on a diet," she says in Slovak, "So I made this all healthy."

After lunch, we retire to the study and listen to Leonard Cohen, sing along with Nina Simone and Ray Charles. She appears with yet another, post-desert, course: pear slices, tangerine sections and grapes. And as we leave, she, against our insistence, even prepares a doggy bag for us to take back home to our little Westie Bella. Yet the hospitality and warmth of this couple is not at all rare among Slovaks. We love these people so and are thankful beyond words for the opportunity to be where we are doing what we do.

Last Friday night we held another encouraging "Family Friday" at the English Bible Study Centre. Peter's wife (who is also a caterer when she's not busy caring for their three children), prepared sushi. Natalie's craft project this past week with the kids was making origami. Jordan and Peter's brother Majo taught the boys a couple of new paper airplane designs. Previous crafts this month included making creatures using leaves and pinecones. In October, we all gleefully carved jack-o-laterns from pumpkins and ate soup made from their innards. These weekly gatherings are being attended by 8-11 children along with their families, all of whom unaffiliated with any church. This is for now our primary community outreach program.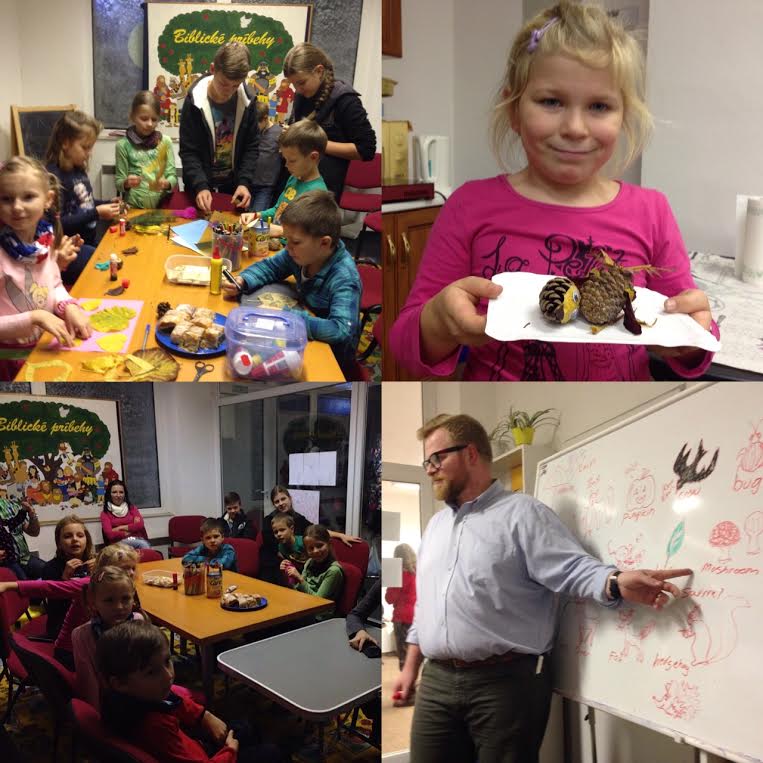 English lesson and crafts for Family Friday
We've also resumed Slovak language lessons with a tutor, a pleasant, incredibly patient woman. We study with her twice weekly for four hours.

The father of our coworker Roman, who you may remember us mentioning in a previous post, continues deteriorating with pancreatic cancer and is not expected to outlast the winter. Be praying for the family and especially for the fullness of God's grace to be with Roman.

We thank you, love you and are honored and thankful to be your partners. Happy Thanksgiving!


J&N