---
Dear friends and family,

What an exciting couple of months the Arnolds have had in Slovakia! For those of you in North Houston, we have been praying on account of last month's heavy flooding. We pray that God's glory be shown in your good works and cheer. As always, we're grateful for all of your prayers and are seeing many of them answered day by day. For starters, Natalie's pregnancy continues along healthily. Only good reports from her doctor. Only three months left now! We've picked out a name for her: Adelaide (Addie for short), or Adela in Slovak, and look forward to sharing more news about her with you. She continues to move, kick, breakdance, and remind her parents that she is present and growing bigger each day.

Jordan's congregational ministry and evangelistic outreach is having very positive gains. We've been praying weekly for the Lord to bring us into contact with people whose hearts are open to the Message. Among regular students are a dentist, an engineer and a young artist, all three of whom are named "Ivana." One of these students, when asked if she'd be interested in studying the Bible in English, said joyfully, "This has to be a gift from heaven!" Another student, Dana, a laboratory scientist, has taken very fondly to Natalie. We have an arrangement in which she teaches Natalie one-on-one Slovak for an hour-per-week and then she gets two-hours of English instruction. In a powerful answer to prayer, we have also been blessed to find a wonderful friend from the Middle East who is falling in love with the Lord. It's an amazing story but we unfortunately cannot share more information due to the sensitivity of the situation. Then there are Dany and Gaby, two "lost and lonesome souls" who are gravitating daily towards us and--even more importantly--other Christians in the assembly.

---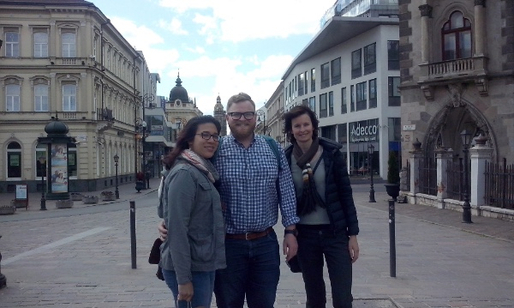 In addition to the evangelistic studies, Jordan has been working in the garden, getting it ready for the growing season. We have a pear, apple, apricot and walnut tree. We have three currant bushes and need to get some raspberry bushes in the ground before it's too late. Before Adelaide arrives, Jordan has also been busy trying to acquire his European Union driver's license. He's been going through driving school and has made friends with his driving instructor. They've become squash partners a couple of times-per-week. And he's had to get an emergency medical response training certificate in connection with his license. Learning to drive a manual transmission on a narrow city street system designed in the 17th century, shall we say, is a more rigorous process than we'd imagined. We did finally buy a car, however, a French-made job that's due to arrive either this week or next from the factory. Many thanks to each of you who chipped in!

Everyone benefitted greatly from the Czech and Slovak Family Easter Retreat as the theme was "Liberated Parenting." It was more in the style of a discussion group and everyone was eager to share and listen to other parents and their experiences. One of the highlights was watching each of the children run around frantically in the hunt for candy filled easter eggs in a nearby field. The teachers had the privilege of nearly 20 kids to teach and wrangle - each one a blessing, of course!

We also had the privilege of two sweet young women from the Bratislava congregation visiting us last week - Janka, a teacher who works with mentally handicapped children, and Beatka, a math teacher who now works and lives in Vienna, Austria. Both of them love the Lord and pursue his likeness daily. It was their first time visiting Kosice and we were thrilled they made time to come and see us and our beloved city.

---
The summer and early fall promises to be an eventful one for us. We plan to visit and encourage the congregation in Banska Bystrica/Martin (near the middle of Slovakia) at the end of the month. In August, we will be welcoming the third Arnold in Slovakia, and then in September a group of three sisters from north Texas are set to arrive and to work a couple-week shift in connection with the Let's Start Talking program. In October, we look forward to the possibility of hosting some Houstonians in our fair city who are eager to encourage and work alongside us.

We continue to ask for your precious prayers for the work here in Košice. Be praying for Natalie's and Adelaide's continued health and that the delivery (as well as the arrangement of everything in between and beyond) will go smoothly. Aimee and Branyo continue to wait for their little one to arrive as well as Jordan's younger sister - they are both due any day now. Continue to intercede for the growth of each congregation as they embrace both challenges and blessings.

God bless you and keep you. Thank you for loving us.

yours,
J&N