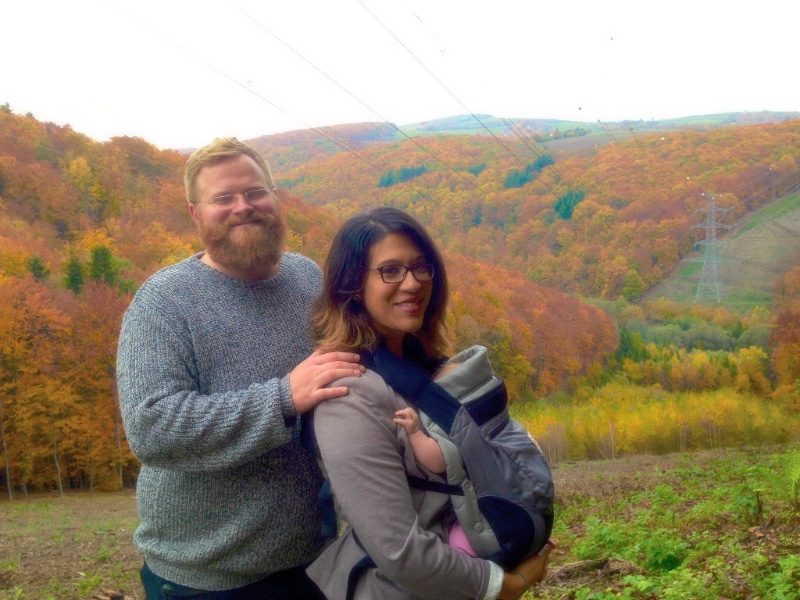 Enjoying an autumn walk in Bankov, part of Kosice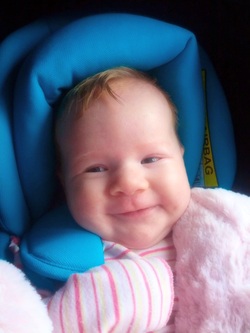 Greetings from the Arnold Family in Slovakia!

Winter is upon us, nearly in full. We unpacked our sweaters and coats and are expecting the first snow in a few days. It's been an extraordinarily busy but invigorating and productive two months for all three of us.

First, an update on Adelaide. Our baby is now ten weeks old! According to the doctors—and she's seen a lot of them—the girl is growing like a weed and is as developed as a baby twice her age. This is of course good news. Even more so, as when Adelaide was first released from the hospital her doctor had diagnosed her as having mild hypotonia (muscle retardation). At the moment, Natalie and Adelaide are busy adoring one another on the sofa.

Last month we spent a day and a half traveling to Bratislava and back, about a five-hour one-way drive, to visit the American Embassy, whereupon the consulate certified Adelaide's United States citizenship and issued us her passport. It was our first family road trip. She almost instantly falls asleep when the car starts moving.
---
For two weeks in the middle of September Debbie, Jamie and Margaret Atchley arrived from Texas. They worked with us for two weeks with the Let's Start Talking (LST) program. For those unfamiliar with LST, it is a short-term evangelistic missions program sending teams from congregations, youth groups and university student volunteers into a field to work alongside long-term missionaries. It's a conversation ministry, using curricula from the gospels to help non-native English speakers practice their language skills, develop a cross-cultural friendship and, most importantly, come to know Lord Jesus through the Holy Scriptures.

Prior to their arrival we did considerable outreach both personally and through social media to garner readers. In the end, out of the thousands reached hundreds who "liked" the program on Facebook, we had less than a dozen show up to participate. But things couldn't have worked out any better! From these readers and from old friends have emerged new friendships and the beginning of a community. We are all continuing to meet weekly on Wednesday evenings for English Bible study and sharing a meal together, and then again on Friday evening for coffee.

The three Atchley ladies' God-glorifying presence and work in Kosice was an answer to prayer. Their coming also had perfect timing to encourage Natalie, at a time when the postpartum blues had set in and she needed to be "loved on" by sisters, all mothers themselves, who could understand.

---
One week after LST, Marvin Trice and Larry Keele from Houston arrived to Kosice for a ten-day stay of work and encouragement. While with us Larry and Marvin helped reconnect us to some friends old and new. In particular, Katka and Marek, with their six-month old son Markus, have become fast friends. While here Larry preached and presented a three-day seminar on building relationships that last according to the Bible. It was very encouraging to me personally for Larry and Marvin from our overseeing congregation to be here, to advise me, to get a feel of the work we are doing here, the struggles and progress involved in our situation.

We are so very proud of the congregation in Kosice, how involved they were, sacrificing their time and putting themselves into the work of making our inaugural LST and the seminar of Larry the successes they were.

Through our friend Katka, Natalie has joined a support group for new moms. Next week Natalie is to lecture on nutrition needs for mothers, newborns and infants. We're thankful God is opening new doors for Natalie to develop relationships.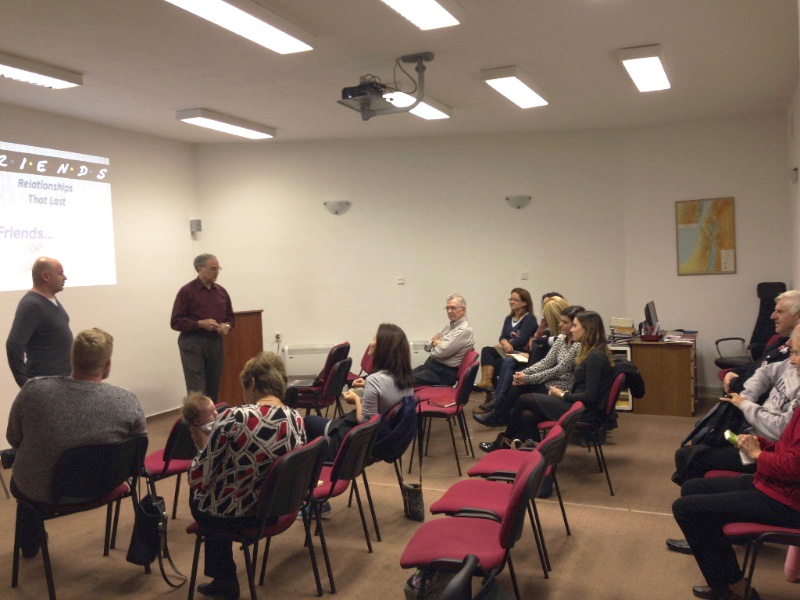 Seminar: Building Relationships that Last - According to the Bible

---
This upcoming Sunday we will be working and visiting dear Christian friends in Banska Bystrica, about three hours to the east. While Jordan has been preaching in Slovak in Kosice now for three months, it will only be his second time without a translator in Banska Bystrica.
We are planning our furlough to the States for the wintertime. Unfortunately, we must wait on Adelaide's vaccinations to be complete. Also we can't leave the country until we receive our renewed residency permits in the Slovak Republic. Because of the immigration crisis in Europe, the police bureaucracy is really cracking down. We even had detectives from the foreign police office show up both to our house and to Peter's house to inspect our paperwork and confirm our story. Hopefully our paperwork will clear shortly and we can make concrete plans for visiting you all in the States ASAP.
As always, we are grateful to you each for your partnership with us for the sake of the gospel. Thank God for you all.
Prayers:
Gratitude for Natalie's and baby's health.
Gratitude for the good works done in God's name mentioned above.
For the Bible study group and each precious soul in it, and their individual journeys of faith.
For friends not quite ready for a Bible study.
For the church in Kosice.
For our paperwork to clear in time for us to be Stateside for Christmas.
For the grandparents who are eager to meet their grandbaby.
God bless you and keep you,
J&N
& Adelaide & Bella