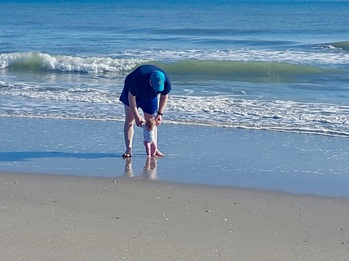 Back in Slovakia
Hello friends and family-
well, we've gotten resettled. Adelaide continues to grow. We recieved all required paperwork in time and flew to the Staes with minimal problems. Firstly, we'd like to thank from the bottom of our hearts each of you who received us so hospitably while we were on furlough. Thank you for supporting us. We were encouraged and refreshed beyond words to spend time with friends and family, even as God sustains us now by your prayers. To the few we didn't get to be personally reunited with and introduce to our newest member of the Arnold family, we are no less grateful for your continued support and partnership with us in Slovakia.

---
A Tough Winter
Everyone around here agrees that this winter was the bitterest in years. We hate telling them we spent a good bit of it in Florida and Texas. The first snow of the year was just beginning to fall early in the morning on the first day of December when we left for the States. Addie only cried when we were taking off. It continued to snow here in Kosice while we were on furlough, accumulating a good half-meter. And having never gotten above freezing for a month and a half, the snow we left behind remained in banks waist-high by the time we returned at the end of January. By now only on the crests of the hills does any snow remain.

Partially on account of the winter's harshness, for almost a month after we returned we found it challenging to reconnect with many of our contacts, friends and one-to-one English Bible students. Our Sunday morning assembly and Wednesday evening Bible study group continued uninterrupted, but there was definitely a perceptible loss of enthusiasm from when we'd left. We're grateful that's beginning to change. Winter, after all, is thawing and the season of sniffles and sore throats is waning. It's simply a matter of time and trust in the Lord's providence to build back up to the momentum we had.
---
Easter Retreat in Eastern Europe
We've been far from not busy, however. For one, Adelaide is learning to crawl. And, meanwhile, we've been planning to host the Eastern European Easter Family Retreat next month. We've had to do a lot of driving around the country trying to find a suitable hotel/retreat center. We've invited as our speakers this year
Tony and Leslie Coffey
of Dublin, Ireland. Leslie will be doing a program for the ladies, as Tony leads the general assemblies. In total were expecting around 50 attendees, coming from Slovakia, Czechia, Hungary and Germany. It's the first real event planning we've ever been responsible for, and our inexperience is surely evident. We would ask you to pray for its success.
---
More Upcoming Events
Mid-February a couple engaged to be married at the end of June contacted us, first by phone and then we met in person. He's from the States and has a Christian background, and she's Slovakian but lives in London. We spent several hours together in Bible study and in pre-marriage counseling, as they asked Jordan to offer a blessing in their state wedding. We all hit it off splendidly and look forward to what new doors God will open through our friendship.

This summer promises to be an eventful one. At the end of June our friend Patrick Boyns, Principal of the British Bible School, is planning to spend perhaps a week with us in Kosice. Next, throughout the entire month of July we will be hosting our second Let's Start Talking campaign, with a team of three Americans coming over to work with us. Then in the doldrums of August we look forward to celebrating Addie's first birthday as well as hoping to spend a couple of days camping and fishing at Lake Balaton in Hungary. And finally, in September we're hoping that Natalie's folks will be able to come over for a visit.

---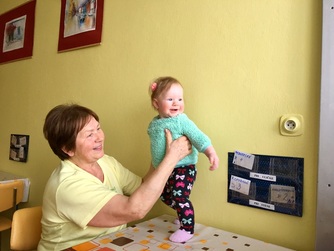 Prayer Requests
As we close this update, we would ask you for your prayers on behalf of our dear sister Kvetka, her husband Slavo and their family. She is very much the matriarch of the congregation in Kosice, a surrogate mother to Natalie and me and babka to Addie. Last week she was taken to the hospital after a blackout and fall; she is doing much better as it was the diagnosis was much less serious than thought. Yet after a week, her doctor has still relegated her to another ten days in rehabilitation.

Have a question? What's going on in your neck of the woods? How can we pray for you? Don't hesitate to contact us!


Yours in Christ,
J&N
& Adelaide